Overview
The Community Connections Small Grants Program supports resident-led efforts to improve the quality of life throughout local neighborhoods. In partnership with the Greater Milwaukee Foundation, Zilber Family Foundation and Northwestern Mutual, these grants (ranging from $50.00 to $600.00) fund projects, events and activities led by residents. All grant applications are reviewed and scored by a group of residents who reside in the targeted zip-codes: 53204, 53205, 53206, 53208, 53209, 53210, 53212, 53215, 53216, 53218, 53224 as well as Dunbar Oaks and Tower Hill neighborhoods in Waukesha.


Residents can apply as an individual (with a community partner) or a group for grants ranging from $50.00-$600.00.
Examples of funded projects: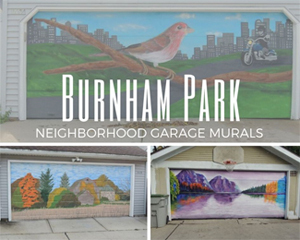 • Alley Transformation Project - Residents from the Burnham Park neighborhood improved the safety of their alley for the children who live and play there. The group accomplished this by installing speed limit signs, lighting on garages, and murals with a scenic theme on several of the garage doors. This project ensured that the alleys where children play are not only safe, but serve as an aesthetically beautiful place where residents are able to consistently gather together.
• Bumblebee Haven Community Garden - Residents from the Historic Mitchell Street neighborhood established Bumblebee Haven Community Garden's presence within their community through the creation of a beautiful sign that captures their vision for the space. To create neighborhood awareness, this former vacant city lot now has beautiful signage to help make the space a neighborhood destination.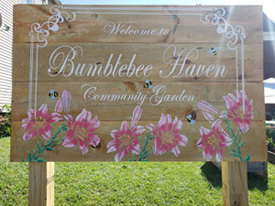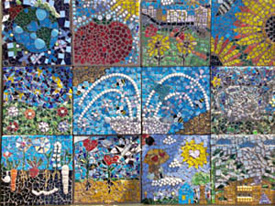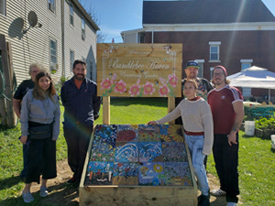 Click here to watch a video about the Community Connections Small Grants Program.

Click here to like our Facebook page and to sign up for an application assistance session.
Who Should Apply
• Adult residents
• Youth residents up to age 21 - Click here
Adult Residents
Resident led groups of three, or individual residents who secure a partner (company, non-profit, government agency, etc.), living and working in the following zip codes 53204, 53205, 53206, 53208, 53209, 53210, 53212, 53215, 53216, 53218, 53224 and the Dunbar Oaks and Tower Hill neighborhoods in Waukesha are encouraged to apply. Projects should benefit a specific neighborhood and be planned and led by a group of at least three unrelated individuals, or an individual resident with a non-profit or business partner, all of whom reside in and around the neighborhood where the project will take place.

The purpose of Community Connections Small Grants Program is to fund residents who are part of the fabric of their respective neighborhood. Projects should make use of the strengths and assets that already exist in the neighborhood. These strengths and assets are shown through the dollar-for-dollar match in the budget, the commitment of the residents, and active networks and strategies already in place. Applicants are encouraged to think creatively about neighborhood assets and how they can be used to accomplish projects. Assets can be institutions, organizations, and people whose resources, gifts and talents are used to move the project forward.


Grant Requirements: Adult Residents
Completed grant applications must be received by the deadline. All applications received after the deadline will be considered during the next grant cycle. See below for grant application deadlines.
1. If applying as an individual, you must live in or around the neighborhood where the project will take place and find a partner (company or non-profit) to support your project. If applying as a group, three unrelated individuals who live in or around the neighborhood can apply for projects to benefit and take place in their neighborhood.
2. All grant requested events and activities must benefit and take place in or around the neighborhood where the residents reside.
3. Applicants must secure MATCHING SUPPORT equal to or greater than the amount requested from the small grants program. For example, if you request $350.00, you should demonstrate $350.00 in matching funds and/or in-kind services. Matching support can be money, other grants, volunteer work, or donated goods or services such as food, event space, tools, or equipment.
4. If funds are requested to cover the cost of contractors, the cost of the contractors cannot exceed 50% of the grant requested from Community Connections.
5. Applicants are prohibited from buying tools or equipment using the Community Connections Small Grant funds. For questions regarding acceptable purchases please email [email protected].
6. Payment will be disbursed in two ways to resident's groups:
a. A group checking account in the group's name.
b. The check can be made directly to a designated individual within the group.
7. Applicants can only take the lead and/or be the point of contact for one project per year.
8. All in-person events must follow the COVID-19 safety precautions as mandated by the state and/or municipalities. This includes the number of individuals gathering in-person and wearing masks.
To Apply: Adult Residents
Prior to grant submission
1. If you are interested in applying for a Community Connections Small Grants (CCSG) program grant, please submit a Pre-application questions form and one of our resident reviewers will contact you to discuss your project further and answer any questions you have about your project and applying for the grant. Additionally, reviewers will review your application before it is submitted. (required)
2. Attend an in-person or virtual application assistance session where you will receive feedback on your grant application to put you in the best position to receive funding. In preparation for these sessions, please print the application questions, answer all questions including the budget and bring them with to the application assistance session.
Click here for the application questions. (optional)
3. Submit your application online and wait for an update regarding the status of your application.
After grant submission
1. After submission, all qualified applicants will receive an email regarding the status of the grant application. This includes requesting an interview if required by the review committee. Please check your email frequently throughout the grant process as this is how grant related communication is shared.
2. Track and document all project expenses. This includes keeping track of original receipts and invoices. Submitted receipts can only reflect items purchased for the funded project.
3. Where appropriate, take before and after pictures of the project.
4. Submit your final report 30 days after project completion or by the final report deadline, whichever comes first. All three group members or the individual and community partner must complete and sign off on the final report. Failure to submit your final report and receipts on time will disqualify all group members from applying for future grants. Additionally, this will trigger a form 1099 to be sent to the group or individual at the end of the calendar year. The final report will ask the following questions:

• Number of volunteers
• Number of volunteer hours
• Number of project participants
• How many dollars were matched
• A list of partners who participated in the project
• Project photos
• The flyer used for the project
• At least 5 high quality photographs emailed to [email protected]
5. All grantees will be required to attend a final grantee celebration to share your project success. Each project will be required to make a 5-7 minute presentation. Presentation criteria is as follows:

a. Discussion of how the project idea came about
b. Explanation of the project
c. Completed final report questionnaire
d. Please share numbers in the project information portion of the final report form:
• Number of volunteers
• Number of volunteer hours
• Number of project participants
• How many dollars were matched
e. Describe how the community is better as a result of your project
f. Share how you have personally developed as a result of conducting a community project
g. Share a skill learned through the grant or project process
h. Share noteworthy successes that you are specifically excited about
i. Share any challenges you faced and what you would do differently if funded for the same project
j. A visual component is required for each final presentation (PowerPoint, poster board, etc.)
2022 CCSG Important Dates: Adult Residents
2022 Cycle 1
Application Assistance
March 16, 2022
5pm-7:30pm

March 24, 2022
5:30pm-7:30pm

April 7, 2022
5:30pm-7:30pm
Click here to join the information session live
Application Deadline
April 20, 2022 at 11:59pm
Grant Interviews
May 2 & 3, 2022
If required, you will be notified
Grantee Orientation
May 25, 2022
Zoom
2022 Cycle 2
Application Assistance
July 13, 2022
5pm-7:30pm

August 17, 2022
5pm-7:30pm

September 14, 2022
5pm-7:30pm
Click here to join the information session live
Application Deadline
October 17, 2022 at 11:59pm
Grant Interviews
November 14 & 15, 2022
If required, you will be notified
Grantee Orientation
December 16, 2022
Zoom